Success Stories: Sophie — University of Wisconsin - Madison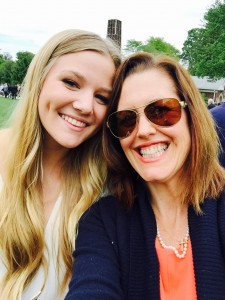 Sophie, Class of 2015, with Jessie. #graduationdayselfie
"Our daughter attended a small, private elite prep school. The idea of hiring an independent educational consultant seemed absurd to me.
Wasn't she getting all of the support she needed from the school I was writing a hefty check to?
The reality is that college admissions just isn't as straightforward as it used to be. And, it's a lot more completive. Our daughter had to write 18 different essays and she didn't apply to a single Ivy League school. I'm glad I let my wife talk me into hiring Jessie to work with Sophie. She went from being overwhelmed and anxious to enjoying the process. And, she got into her top choice school. Money well spent.
I'm not sure what we would have done without Jessie and her team at Compass-U. Jessie helped my daughter to articulate her own vision of where she wanted to attend and why. In the end, the process made her essays more authentic and helped my daughter to feel confident about her college choices."
— Allan