How to Make the Most of a College Fair Experience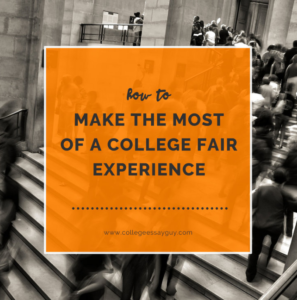 Step by step help from The College Essay Guy!
Got a college fair coming up? A little bit of prep work can reap big payoffs. (Wait, what kind of payoff?) This article by
The College Essay Guy
is super helpful.
The Quick Synopsis:
First, the student needs to consider what is the goal of the college fair? What's the point? Possible points besides making Mom & Dad happy that can actually help a student get into college:
Learn about opportunities
Show genuine interest in a school
Gather talking points you can use to write the "Why us" essay
THE TOP THREE TAKEAWAYS FROM THIS ARTICLE: 
Review the list ahead of time.Choose 3-5 schools.
Write 3 interesting, specific questions to ask. (If you can find out the answer in 3 seconds on Google. Ask another question. And, maybe one specific to your interests.)

What's the one piece of advice you'd give an incoming freshman about your school?
Where do you go for your favorite snack on campus?
If I'm an engineering major, is it still possible to study abroad and graduate in 4 years?
I'm undecided about my major, although I do love history and enjoyed my biology class last year. How does advising at XYZ U help undecided students?

Talk to at least one rep from a school you've never heard of.
To read Ethan's full article,
click here
.