Why Striving for Excellence Trumps Obsessing with Perfection

Yes, Let's!
Report card day. Just the thought of that is bound to elicit memories (of many varieties). My elementary school report card came on dull mint green cardstock, in a sturdy manila envelope. My heart beat just a tick faster while sliding that card out, marking period after marking period, even if I had a pretty good idea of where I stood. The finality of the letters and digits, in permanent ink. And the "soft marks": E, VG, G, S, and U carrying an even greater weight—the teacher's judgment.
As a mother of four, I have survived and sometimes celebrated many a report card day, always threading the needle of encouragement and expectation. Up until this year, my most memorable RCD was the time that Bryn "lost" his in the yew bush that borders our walkway. (I happened to catch this 8-year-old mastermind's performance from my office window as he got off the bus.) You can imagine the shock when I happened to know just where to find it.
I thought I had seen it all, but children are splendid at surprising parents. It is in their DNA. Mary, our youngest, is in the fourth grade. This past fall she brought home a smashing good one at the end of the first marking period. She had earned second honors, and we were thrilled. Mary, though, was reticent about it. "It's not first honors, and it's not principal's honors. I can do better." A few days later, I found Mary's report card pinned to the bulletin board just above her bed. Here are my thoughts at that moment. This is the last thing she will see in the evening. And the first thing she will see when she wakes up. And she planned it that way. (Oh my, is she serious.)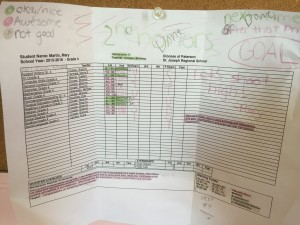 Color coded to match her room's decor. You can't make this stuff up.
Mary went on to earn all A's her second marking period, achieving first honors. Pleased but hesitant, as we went through the comments, I asked, "I am so proud of you. Are you happy with this?"
"Well," she said in her I-have-to-think-about-how-I-want-to-say-this voice, "It's not principal's honors. Evey got principal's honors, and I know I can, too. I can do better. I just need to bring up my Science grade by 2 points and my…."
I couldn't help myself; I hugged her midsentence, "You know what I think?"
Mary leaned back and eyed me.
"Excellence trumps perfection every day of the week. If you become so concerned with perfection, you give up allowing yourself the space to take risks, explore, and go out on a limb with a crazy idea. That's where the magical stuff comes from. Not in chasing perfect grades. Read. Draw. Do your best. Pet your cat. Write your stories in your journal. And these are awesome grades, did I mention that?"
-----------
Report cards came home last week for the third marking period. Mary earned first honors again. As we were looking over report card, she asked, "Could we have macaroni and cheese for dinner tonight?"